Attic Fan
Electric-powered attic vents
Electric-powered attic vents use a thermostat to fight heat and to help prevent moisture buildup inside the attic.
Featuring a low-profile dome, the power attic vent is unobtrusive when installed on the roof face slanting away from the front of your home. It's an efficient option to replace wind turbines or roof pots already in place.
The All Season™ model combines automatic thermostat to protect attics from excess heat and humidity year-round.
Solar Powered Roof-Mounted Attic Vent
A smart alternative to conventional roof louvers, the Solar Powered Roof-Mounted Attic Vent operates during the day and collects power from direct sunlight to convert into electricity. In turn, this energy operates a high efficiency motor inside the power vent, so there's no added cost for electricity. That saves energy, which is better for the environment.
And unlike most electric power vents regulated by a thermostat, the Solar Powered Roof-Mounted Attic Vent does not wait for the attic to get overheated before running. It operates whenever there is direct sunlight.
Solar Power Eco Friendly ProductThe solar vent operates without fuel, waste or pollution. And as a totally solar-powered solution, it's also environmentally friendly. There's no need for electrical hook-up or electricity, simplifying the installation process.
The Solar Powered Roof-Mounted Attic Vent features durable, high-quality, two-piece construction utilizing a solar panel to collect and deliver power directly from the sun to a high efficiency 24-volt DC motor inside the power vent.
WHY USE AN ATTIC FAN?
Attic Fans Help Keep Your House Cool
If you have an attic, you know just how hot it can get in the summer — temperatures in excess of 150°F are fairly common. (It can get even worse if your roof has dark-colored shingles.) Having a massive volume of air at 150°F just above your living spaces can seriously increase your cooling bills in the summer time. There are several steps you can take to reduce your cooling bills — one of the most cost-effective is to add thermostat-controlled fans to remove that hot air from your attic.

| Model | For Areas of | Vents Needed | Installed |
| --- | --- | --- | --- |
| Air Vent Electric PV | 200-2000 sf | 4 sf | $550 |
| Air Vent Solar PV | 200-1500 sf | 4 sf | $650 |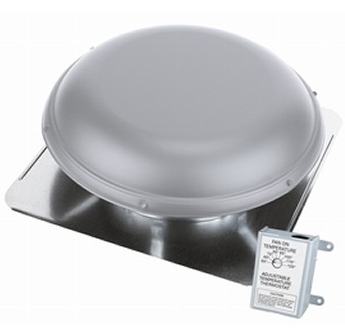 Benefits of a Power Attic Fan
One power attic ventilator is usually sufficient, unless it's a very large attic
Roof-mount power vents are ideal for hip roofs
Feature a preset adjustable thermostat for maximum homeowner convenience
Up to 1320 CFM for attics up to 2,000 square feet
Low-profile, rust resistant, galvanized steel dome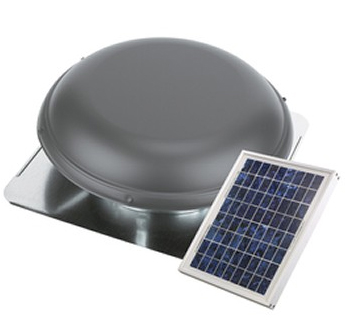 Benefits of a Power Attic Fan
No electrical hook-up needed
Solar panel mounts separately from dome
10-foot cord on solar panel so that the panel can be positioned for optimal sun exposure
Up to 1000 CFM for attics up to 1,500 square feet
Low-profile, rust resistant , galvanized steel dome