Receive high-quality and professional services from All Seasons Home Comfort–Based in the Denver Metro Area and proudly serving Colorado.
Our company is here to assist you by providing the installation or replacement, and service or repair of Swamp/Evaporative Coolers, Whole House Fans, Attic Fans, Whole House Humidifiers, Sun Tunnel Skylights, Insulation and other services at affordable prices. To speak with an experienced member of our staff, simply contact us by calling 303-847-7404 at your earliest convenience. Please take a look at our website and some of the services All Seasons Home Comfort offers. Please, feel free to call with any questions as we would love to hear from you today!
We are an Xcel Energy preferred contractor, and can qualify you for cooler rebates up to $1200 through the Xcel Energy rebate program.  This program is set up to help you cut your energy costs and save money.  We offer the install and replacement of Standard Coolers and High-Efficiency Coolers.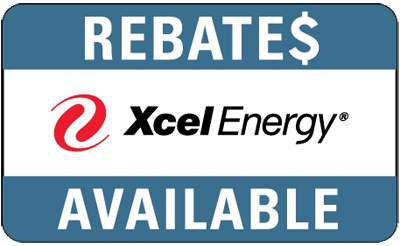 How an Evaporative Cooler Works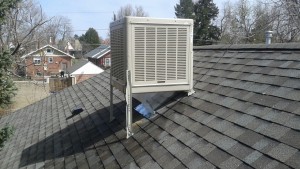 Nature's most efficient means of cooling is through the evaporation of water. A simple example is the cooling you feel when stepping out of a swimming pool – the water evaporates quickly from your body, taking heat with it. Our coolers do essentially the same thing by drawing hot air through wet pads using a fan or blower. As water evaporates from the pads, it takes heat from the air with it, resulting in up to 30 degree cooler air being discharged from the cooler.
Cooling Temperatures
When operating an evaporative cooler, windows are opened part way to allow warm indoor air to escape as it is replaced by cooled air. Unlike central air conditioning systems that recirculate the same air, evaporative coolers provide a steady stream of fresh air into the house. Evaporative coolers cost about one-half as much to install as central air conditioners and use about one-quarter as much energy.
Energy Savings
An evaporative cooler consumes only one-fourth of the electrical energy required to operate a refrigerated air conditioning unit. This means you can save up to 75% of your cooling costs on your electric bill!
In fact, a typical whole-house evaporative cooler from Champion requires two small electric motors totaling between 1/3 and 3/4 horsepower. A comparable refrigeration unit requires three electric motors with a combined horsepower of 3 1/2.
Other Benefits
With evaporative cooling, a complete air change occurs every 1-3 minutes. This offers a great advantage over traditional refrigerated air conditioning, which employs a complicated "closed" system that constantly recirculates the same stale air.
Constant cool air movement pushes heat out – along with stale air, smoke, odors and pollution.
The high volume of fresh, cool air produced by the evaporative cooler helps your body ventilate naturally.
Evaporative cooling helps maintain natural humidity levels, so wood furniture and fabric fibers do no dry out prematurely.